We know that the foreigners on Kuliang had chocolate because there were ads for it in newsletters at the time.  Chocolate was especially handy in the colder months, because it has properties that keep you warm.  In fact, my daughters were always told to bring chocolate for a snack at their school in Nanjing when the winter weather was at its worst, often below freezing, and the classroom had no heat except a coal stove.  They also had hot water bottles or bottles with boiling water to hold to keep their hands warm.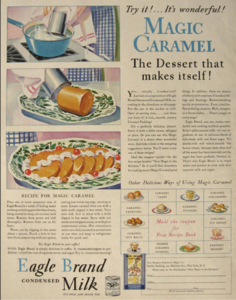 But that was winter.  In other times they could take a can of Sweetened Condensed Milk, boil it unopened for 3-5 hours, and end up with very delicious and sticky caramel.
Here is the recipe:
Old fashioned homemade Kuliang Candy
Take the paper wrapping off a can of sweetened condensed milk and put it in a deep pot, cover with water by at least an inch, put a lid on it, and heat it until it is boiling.  Keep adding boiling water and make sure that the can is under the water by at least an inch.
After boiling for 3 hours you will have a soft caramel spread, and if you keep boiling it for a total of 5 hours you will have a nice, firm caramel, which can be cut into slices when it comes out of the can.